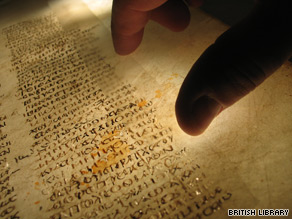 LONDON, England (CNN) -- The world's oldest known Christian Bible goes online Monday -- but the 1,600-year-old text doesn't match the one you'll find in churches today.
Discovered in a monastery in the Sinai desert in Egypt more than 160 years ago, the handwritten Codex Sinaiticus includes two books that are not part of the official New Testament and at least seven books that are not in the Old Testament.
The New Testament books are in a different order, and include numerous handwritten corrections -- some made as much as 800 years after the texts were written, according to scholars who worked on the project of putting the Bible online. The changes range from the alteration of a single letter to the insertion of whole sentences.
LINK
Via:
CNN
Wikipedia entry for
Codex Sinaiticus